Learner's Paradise
BVM International School
BVM International School is a learning haven where kids can enroll and aim for excellence. We take great satisfaction in the high caliber of our educational offerings, the professionalism of our staff, the zeal of our students, and the substantial help given by parents and the local community.
Aiming Excellence
Best Opportunities
Exciting Environment
Quality Education
Academic Success
Best Mentors
Since we are an open school, we actively encourage everyone in the student body to get involved.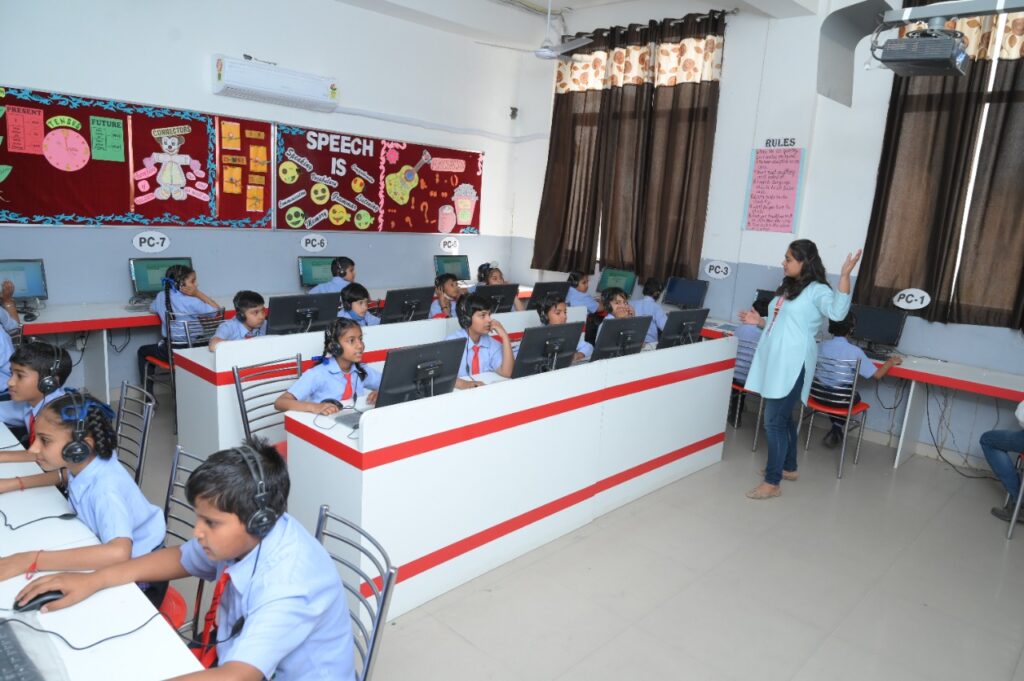 A Home of Education where Students are Blessed with a Ladder to Success!
We intend to provide a useful and kid-focused environment where learning is fun. Our school strives to help children realize who they are and also maximize each student's potential.
In BVM International School, we can inspire our kids to acquire knowledge, express themselves creatively, communicate
 effectively, and have a positive attitude toward life.
Educating Children For Their Bright Future
Education, Inspiration, Success
The campus of the BVM is made to accommodate the requirements of developing, young children. To make learning enjoyable for children, we provide a helpful environment.
Examine the prospectus and important details about the school.
Step 1
Fill out the admission form and submit it online or at reception.
Step 2
Prepare for and clear the entrance test for the considered class.
Step 3
Welcome to the BVM family
Step 4
OUR CORE
VALUES
Values Which Enhance The Future
Our school is dedicated to providing children with a quality education and a successful future.
Delivering excellence to improve students' career and educational opportunities
We take responsibility to provide the best education, morals, and values for our
We give kids the motivation and support they need to develop in order to have a prosperous future.
We give kids fantastic opportunities to develop and flourish into their full potential.
Excellent mentoring and education enable us to support children's continued growth.
A Place Where Talent Meets Excellence
Delivering Outstanding Mentorship and High-Quality Education
BVM monitors the children's growth and development
We put a lot of effort into building dependable connections with our students so they can grow in their independence, self-assurance, and academic knowledge.
Developing Academic Career
Ensuring the academic success and overall development of the students
Great Opportunities
We provide great opportunities to the students to grow in every field
Education, Inspiration, Success
ALWAYS SEEKING THE BEST FOR OUR STUDENTS
BVM International school is a place of learning that inspires the brightest of our children to discover, create, communicate, and have a positive outlook on life. We think that education should include more than just dumping information into a container—it should involve starting a fire.
EXTRA-CURRICULAR ACTIVITIES
To help our students better understand the theoretical material we teach in our classes, we arrange extracurricular activities.
SPORTS
School sports help all children learn integrity, sportsmanship, equality, collaboration, responsibility, health, and welfare as part of their entire education.
CO-CURRICULAR
Students are allowed to foster their social, emotional, cultural, mental, and physical development while learning in an environment that is secure, loving, and conducive to order.
TRANSPORTATION
Establishing a practical, child-centered environment and means of transportation that make learning and travelling enjoyable
Contact Info
Barnala-Khuddi Road, Barnala - 148101, Punjab, India

Email: [email protected]

Call Us: +91 6239821158

Monday - Saturday

08:00 AM - 03:00 PM
Contact Info
Barnala-Khuddi Road, Barnala – 148101, Punjab, India
Email: [email protected]
Call Us: +91 6239821158
Monday – Saturday08:00 AM – 03:00 PM
Knowing that this school is putting up its best efforts in such a fruitful manner and ensuring that our children learn in the greatest way possible is truly amazing.
BVM incorporates compassion into its educational standards, places a strong emphasis on moral principles, and develops leaders in all of its students through its courses and lectures.
By utilising each child's unique abilities and fostering an atmosphere of generosity, accountability, and leadership, BVM brings out the best in every kid. Our family is really appreciative of the school's efforts.